Reigniting the spirit of adventure with The British Motor Show 2021!
The weekend saw Farnborough International Exhibition & Conference Centre hosting and partnering with the British Motor Show, having returned after 12 years with a brand-new interactive and hybrid indoor and outdoor format.
With restrictions eased, this four-day show saw over 45,000 visitors, bringing together petrol heads, electric enthusiasts, families, friends, and live speakers. Not to mention the hundreds of incredible display and stunt cars, spreading across over 80,000sqm of outdoor space and 23,000sqm of indoor exhibition space – making it the second largest exhibition and live event, after the world-class Farnborough International Airshow, to land upon the vast site of Farnborough International!
The atmosphere in and around the Venue was electric, with the audience 'wow'ed' by the spectacular array of supercars and vintage cars, and the nail-biting displays from Caterham and Paul Swift Stunts!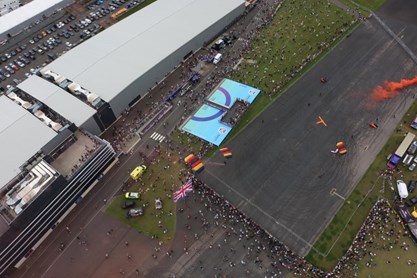 The interactive demonstrations gave the audience a real involvement in the show, giving everyone the opportunity to reignite their spirit for adventure!
The event started in style, with the incredible British Army Lightning Bolts jumping out of a plane from 20,000ft and landing immaculately into the live arena on the grounds at Farnborough.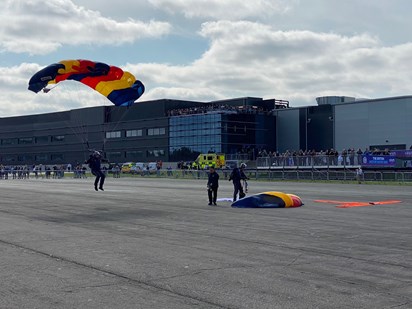 Plenty of rubber was burnt with some jaw-dropping displays of rally cars, giving the audience young or old something to talk about!
We would like to thank you all for making the British Motor Show a real success, and we cannot wait to welcome the next edition of the show, supporting its growth over the next 5 years.
Our outstanding Exhibition and Conference Centre is open and spearheading innovation and change, reconnecting people and businesses across the country in a safe, and engaging way.
The British Motor Show set the bar for an incredible line-up of event launches over the next couple months, which will include Fully Charged OUTSIDE and the National Running Show South. We look forward to welcoming you all to reignite your spirit of adventure!
Follow the action: 
Facebook: https://www.facebook.com/farnboroughinternational
Twitter: https://twitter.com/Farnborough_Int
Instagram: https://www.instagram.com/farnborough_int/?hl=en-gb
LinkedIn: https://www.linkedin.com/company/1953336/
Youtube: https://www.youtube.com/channel/UCk7LqOeg8COiXf_4mtm31Zg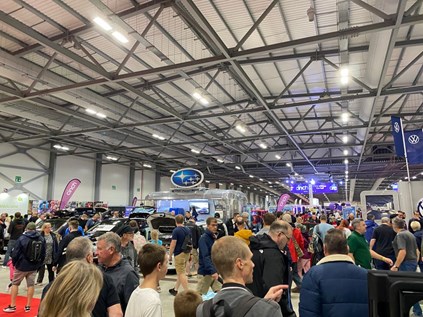 DOWNLOAD OUR BROCHURE TODAY
Complete the form below to get your copy
* This field is mandatory
* This field is mandatory
* This field is mandatory
* This field is mandatory
By checking you agree that you have read our Privacy policy
* Please check this to accept privacy Policy
By ticking this box you are opting in to receiving email communications from us.
* Please Complete Recaptcha