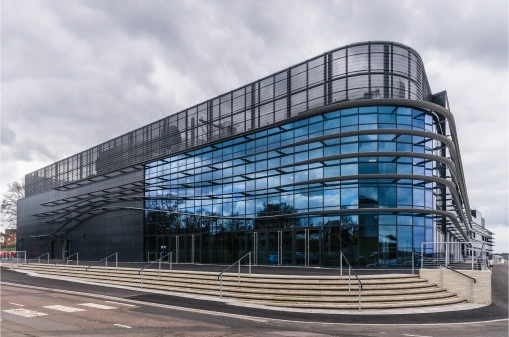 Discover unique, flexible, blank spaces for your next event
The home of pioneering spirit
Convenient location
Hub of innovation
Runway views
Rich aviation heritage
About Farnborough
Farnborough has been synonymous with pioneering triumphs for over a century
Offering stunning views of the airfield, our venue sits alongside Europe's leading business airport and at the home of the world-class Farnborough Airshow. We are a venue shaped around Farnborough, rich in history, as the birthplace of aviation and the home of pioneering spirit.

30 minutes from Heathrow airport, 50 minutes from Gatwick

2,500 hotel bedrooms within a 10-mile radius

A fully secure and private site

15 minutes from the M3 Motorway

35 minutes from London by train

Access to influential visitor base
Watch Our Video
Explore our versatile spaces and see how Farnborough can work for you
Hosting inspiring global events
Scalable spaces
Contemporary design
In-house technology
Leading services
Why Farnborough?
A multi-functional venue with flexible spaces for any event
Our venue spaces have been designed and developed for the sole purpose of hosting events of all scale. To add that extra pizazz to your event, our venue offers ample personality with a spectacular runway backdrop. With the perfect mix of expertise, location and facilities to deliver memorable events.
sqm of flexible indoor event space
+
sqm of flexible outdoor event space
large halls with drive-in access
flexible meetings and conference spaces
free onsite parking spaces
Hear From Our Clients

Farnborough International Exhibition & Conference Centre is such an exceptional and versatile venue. As specialists in live communications events, the blank canvas allows us to create just about anything for our clients – it's brilliant.

The Storytellers
Project Director


Screwfix Live has been a great success, breaking records in terms of both visitor numbers and exhibitors. The Farnborough International Exhibition and Conference Centre works really well for us in attracting our southern region target market and for its flexibility. Furthermore, the professionalism of the team at Farnborough International makes hosting the show at the venue effortless.

Screwfix


Our event was a tremendous success and the support we received on the day from the venue team was fantastic. DPRTE is a big event for us, and there are always additional pressures on the day. Knowing we had an experienced team on site who we could trust to ensure all aspects of the venue were entirely taken care of made our lives a great deal easier. Being a secure site was essential for us which, along with ample free car parking, made the Farnborough International Exhibition & Conference Centre the perfect location for our event.



The Farnborough International Exhibition and Conference Centre is the perfect venue for any form of corporate event. The team are exceptionally professional and proactive in ensuring all of your needs are fulfilled. The flexible nature of the space is exceptionally unique which gives you a creative platform to push the boundaries and limits of engagement and entertainment.


The team really listen and react to any situation. They are always available to discuss any issue that arise. Working with a venue that has a fantastic understanding of events makes such a difference.

Homebuilding & Renovating Show
Event Organiser

"We've now held the British Motor Show at Farnborough International Exhibition & Conference since 2021 and very much see the venue as the home of the show for the foreseeable future. "We've had our fair share of challenges bringing the show back, especially as the relaunch happened just as covid hit. However, the team have been relentless in their drive to support my business and our event and continually go above and beyond to help see the British Motor Show become the fastest growing and biggest UK motor show in the calendar. "It's a joy to work with all departments across the venue team and I look forward to continuing our partnership for 2023 and the future."

Andy Entwistle
Chief Executive, Automotion Events & The British Motor Show


"Our objectives were met completely from our first year working with FIECC. We are excited to be renewing our contract with the venue for multiple years to come and look forward to expanding further into the additional space that the venue offers. "The event was a success with positive feedback on all fronts but in particular on the venue. Lisa and the team were a pleasure to work with."

Caroline Lucey
Chief of Operations, Turf Games


"DPRTE has held their annual event at Farnborough International for several years now and we're delighted to keep coming back. The venue suits us for a number of reasons, and it's been great to build relationships with the team over the past few years, so that they know what we need before we even ask for it."

Laura Aitkenhead
Head of Events Development, BiP Solutions