Local Young People and Local Businesses Bring STEM Subjects to Life
The 'STEM Student Challenge', organised by Farnborough International and the Community Matters Partnership Project (CMPP), took place at the Farnborough International Exhibition and Conference Centre on Friday 6 March.
The day was developed to enable Year 12 students from local schools and colleges to explore how STEM subjects - science, technology, engineering, and maths – could be brought to life through problem-solving challenges developed by businesses from the surrounding area.
Companies including Fluor, BAE Systems, PWC, and Gulfstream were represented by graduates who, took students through a 10-minute long challenge. Groups of students transitioned to each company, developing and practicing transferrable skills such as team building and problem-solving.
A key part of the day was a networking session where students had the opportunity to hear directly from the company representatives about potential careers paths within STEM-related industries.
The day concluded with an action-packed 'Mexican Rollercoaster' activity, with Farnborough Hill taking home the winning prize.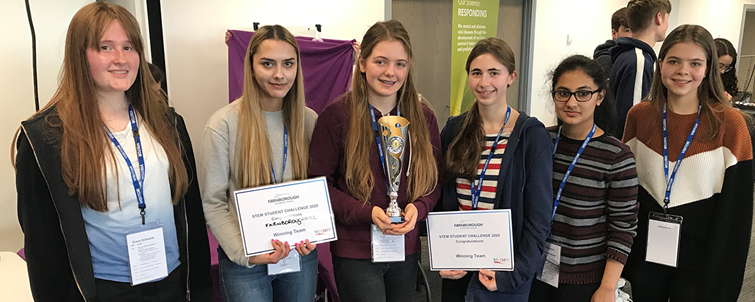 Eight schools and colleges from across Surrey and Hampshire put forward teams of six pupils to take part in the Student Challenge, including The Sixth Form College Farnborough, Yateley School and Collingwood College.
Farnborough International Exhibition and Conference Centre venue director Michael Watton said: "Friday's Student Challenge was a great opportunity for local young people to hear directly from the influential STEM-based companies in our local area.
"By taking learning out of the classroom and enabling young people to directly engage with professionals we hope they feel inspired and motivated to continue studying the STEM-related subjects that are so important for the future of industries such as aerospace.
"We were delighted to help organise and host this fantastic event at our venue, a location where technological development and knowledge sharing is at the heart of the events we stage, and we hope to see many of those who attended returning to Farnborough Friday – a day dedicated to STEM on July 24 at the Farnborough International Airshow." 
Teacher Laura Wakefield from The Sixth Form College Farnborough said about the event: "This was a fantastic event. Not only were our students taking part in engaging, thought-provoking team challenges, they were able to network with the host organisations in an informal and informative way.
"The variety of organisations and industries participating gave a brilliant insight into the array of careers open to our students, which will support them in exploring their future options.''


DOWNLOAD OUR BROCHURE TODAY
Complete the form below to get your copy
* This field is mandatory
* This field is mandatory
* This field is mandatory
* This field is mandatory
By checking you agree that you have read our Privacy policy
* Please check this to accept privacy Policy
By ticking this box you are opting in to receiving email communications from us.
* Please Complete Recaptcha