Farnborough International collaborates with Stage Fifty to create world-class film studios in multi-million-pound contract
Farnborough International, the innovative and pioneering organisation famous for delivering world-class airshows and events, has announced a first for its multi-facetted Exhibition & Conference Centre. In a collaboration with Stage Fifty, creators and operators of production-ready spaces, two state-of-the-art sound stages for film and TV productions have been built.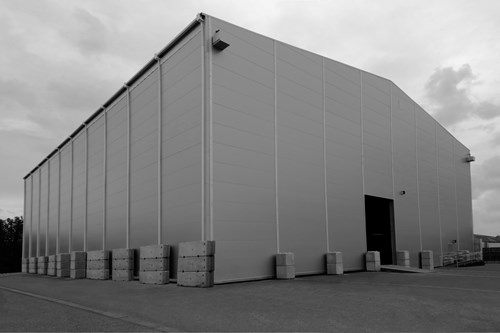 The studio facility, which includes two 22,000 sqft sound stages, cements Farnborough's role as a leading location for the film industry. The site has already provided location space for major Hollywood blockbusters, including Jurassic World, Mission Impossible and Hobbs & Shaw. Ahead of attracting the multi-million-pound investment from Stage Fifty, Farnborough International has invested heavily into the site's infrastructure to support the demand from production companies. The site has converted 10,000 sqft chalets into permanent production offices and upgraded the power network to ensure ample power supply for heavy-weight productions.
It has been reported that in 2020 an inward investment spend from major international productions reached £2.84 billion in the UK, recording a £1.19bn spend in the final quarter, the second highest spend ever over a three-month period. These figures will only grow with the addition of Farnborough Studios, helping provide a stronger supply of studios in the country.
The new studios at Farnborough International further enhances the UK's position within the global film industry, while supporting the government's strategy to boost international development and distribution opportunities for film, TV, animation, documentary and video games.
Consistently connecting the world through its pioneering spirit, Farnborough International continues to push boundaries with its future-focused vision, providing new and valuable opportunities to drive innovation within the global aerospace, defence, MICE and film industries.
The studios will equip the creative industries with a versatile space suitable for a diverse range of filming opportunities, including TV, film, music videos, rehearsal space, set build and photo shoots. Inclusive of workshops, production office facilities, crew and unit base parking and 1500 KVA power per stage, the easily accessible stages offer flexibility to bring ideas to life.
Gareth Rogers, CEO at Farnborough International, said: "At Farnborough International, we strive to provide innovation to each area of our business, industries and local community. Our thinking outside the box mentality and this exciting collaboration with Stage Fifty will enable us to attract investment from the global film industry and support the wider UK economy.
"The creation of these sound stages will support around 800 jobs in a diverse range of industries and services and generate new opportunities to help boost our local community." James Enright, CEO of Stage Fifty, added: "We're delighted to be collaborating with the team at Farnborough International to bring much-needed studio space to the UK. Stage Fifty builds and operates professional film environments, and our sound stages are designed and engineered to the highest industry specification."
Adrian Wootton OBE, CEO of the British Film Commission, commented: "The creation of new studios and stage space announced by Farnborough International and Stage Fifty is excellent news for South East England's screen industries and will undoubtedly help in continuing to attract major international production, investment and employment, to the region.
"The UK's film and TV industry is experiencing an exceptional growth period – film and TV production spend in the first three months of 2021 was 11% higher than the same period in 2020. Indeed, the demand for content has never been greater, which in turn is driving the need for greater skills development and additional studio space, services and facilities. This is an incredibly exciting moment, and one we at the British Film Commission are focused on maximising, to ensure UK studio and stage space capacity continues to expand, whilst driving new revenues across the nations and regions and creating highly skilled jobs with long-term career prospects."
The stages and newly developed production offices will also be fully utilised during the renowned Farnborough International Airshow in July 2022, implementing new ways for the world's leading aerospace brands to be showcased.
Gareth Rogers continued: "These functional spaces will provide an additional asset to our venue, especially during the Airshow, demonstrating our cutting-edge approach to aerospace and airshows, supporting the global aerospace industry."
The stages are adjacent to Europe's leading business airport, close to the M3 motorway and within 35 minutes from central London by train.
For more information about latest innovations and trailblazing collaborations at Farnborough International or to make an enquiry, please visit www.farnborough.com

About Farnborough International:
A champion of innovation, Farnborough International is the go-to destination and organisation for the pioneers of today and tomorrow.
Farnborough International runs some of the world's most prestigious aerospace and business events, including the famous Farnborough International Airshow. Covering 20,000sqm of event space, the Exhibition and Conference Centre offers a multi-functional venue with flexible spaces and has been purpose-built for the hosting of large-scale events.
Served by strong national and international travel links, the venue can be reached in just 35 minutes by train from London Waterloo or by car from the M3. For those travelling by air, Heathrow is only 30 minutes away and Gatwick 50 minutes by car. Farnborough Airport, adjacent to the venue, is one of Europe's leading business airports.
About Stage Fifty:
Stage Fifty builds and operates production-ready, professional sound stages and filming facilities. Our name reflects our mission to create at least one million sq ft of high-quality and reusable production space, or 50 sound stages, in the next three years. Headquartered in the UK and operating globally, to find out more visit: www.stagefifty.com
DOWNLOAD OUR BROCHURE TODAY
Complete the form below to get your copy
* This field is mandatory
* This field is mandatory
* This field is mandatory
* This field is mandatory
By checking you agree that you have read our Privacy policy
* Please check this to accept privacy Policy
By ticking this box you are opting in to receiving email communications from us.
* Please Complete Recaptcha