Celebrating Farnborough Airshow's 75th Anniversary and Rushmoor Heritage Week
This September, Farnborough is buzzing with excitement as we celebrate two monumental events: the 75th birthday of the iconic Farnborough International Airshow (#FIA75)and Rushmoor Heritage Week. These events promise a blend of history, culture, and entertainment, creating an exciting opportunity for residents and visitors alike to participate.
The Farnborough International Airshow, a beacon of aviation excellence, is turning 75! This milestone is not just a celebration of the Airshow's legacy but also a testament to Farnborough's rich aviation history. From pioneering flights to groundbreaking innovations, Farnborough has been at the forefront of aviation achievements. This year, as we commemorate #FIA75, we invite you to be a part of the festivities and relive the moments that have shaped the world of aviation.
Rushmoor Heritage Week is a celebration of Aldershot and Farnborough's illustrious past. Here's what's in store:
Heritage Trails and App: Discover the towns' histories through interactive heritage trails. Whether you're exploring Aldershot's transformation from a small village to the home of the British Army or tracing Farnborough's journey from a tiny hamlet to a town of over 65,000, the Heritage Trails app offers a captivating experience. Download the app and embark on a journey through time.
Aviation Cycle Tour: On Saturday, September 16, unlock your bike and join the FAST Museum's historians for a unique cycle tour of Farnborough's aviation landmarks. Pedal through iconic sites and listen to tales of pioneering individuals and innovations.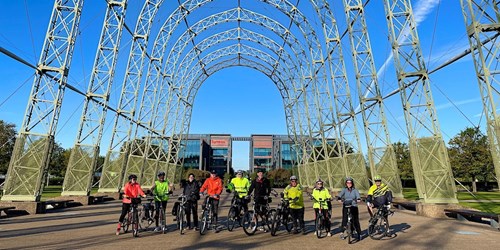 Heritage Festival: Rushmoor Heritage Festival is a fortnight of free events, from hilarious history tours to wacky street theatre shows. Don't miss the chance to attempt the WWII assault course at the Aldershot Military Museum or watch the Bombardiers in action.
In conclusion, this September promises a blend of nostalgia and fun. Whether you're an aviation enthusiast, a history expert or someone looking for a weekend of entertainment, Farnborough is the place to be. Join us in celebrating our rich heritage and making new memories!